Upcoming Events
To keep up with our upcoming events, like us on Facebook or follow us on Twitter.
Topic: Thirsty for Justice: The Struggle for the Human Right to Water in California and Beyond
Speaker: Colin Bailey, executive director, Environmental Justice Coalition for Water
When: Friday, September 28, 2018, 12 p.m.–1 p.m.
Where: University Library, 2000 State University Drive, Library 11

Map | RSVP on Eventbrite
---
American River Basin Stormwater Resource Plan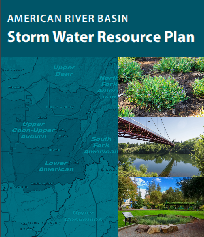 The final American River Basin Stormwater Resource Plan (ARB SWRP) is available for download from here. It will eventually move to the Online Planning Tool Information (
OPTI
) Center hosted by the
Regional Water Authority
. ARB SWRP describes an ongoing process to identify watershed-based runoff management methodologies for the American River Basin (ARB) in northern California, which covers Sacramento County, western Placer County, and a small portion of western El Dorado County. The plan also describes processes for developing and implementing projects and programs that manage stormwater and dry weather flows to improve water quality, reduce localized flooding, increase water supplies, protect the environment, and enhance communities.
American River Basin Stormwater Resource Plan - Final, May 25, 2018
Appendix A – SWPR Self Certification Checklist
Appendix B1 – Detailed ARB IRWMP Maps - Water, Wastewater, and Land Use Agency Boundaries
Appendix B2 – Detailed ARB IRWMP Maps - Water Bodies of the ARB Region
Appendix C – Municipal Land Use and Open Space Maps
Appendix D – ARB SWRP School Districts
Appendix E – Collaborator Commitment Letters
Appendix F – Agency Resolution Template
Appendix G – Annotated List of Relevant, Reviewed Documents
Appendix H – Quantitative Methods Worksheets
Appendix I – Methodology for Selection of Quantifiable Constituents
Appendix J – Existing Efforts for Identifying Multi-Benefit Projects
Appendix K – Project Opportunity Scoring Worksheet and Web Map References
Appendix L – Drywell Fact Sheet: Guidance for the ARB Region
Appendix M – Watershed Analysis and Modeling Approaches for the ARB Region
Appendix N – Call for Projects Template