EnviroCert Exams
In association with EnviroCert International, OWP will be proctoring certification exams for the following stormwater and erosion control certification programs: CESSWI, CMS4S, CPESC, CPSWQ.
Important!
To take an exam you must first gain approval through the appropriate EnviroCert certification program. The application process can take up to 45 days. Information about the application process and forms are available at EnviroCert International.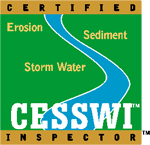 Certified Erosion, Sediment and Storm Water Inspector
Certified Municipal Separate Storm Sewer System Specialist
Registration Policies
Registration for each exam date will end when available seats have been filled or 14 days prior to the exam.
Registration is not available at the door.
Exams cost $75.00 each. No refunds will be given.
Schedule of Exams
| Date | Status |
| --- | --- |
| January 18, 2013 | Closed |
| April 19, 2013 | Closed |
| July 19, 2013 | Closed |
| October 18, 2013 | Closed |
Exam Day Policies
Bring a copy of the authorization letter from the appropriate EnviroCert certification program stating that you are eligible to sit for the exam.
Bring photo identification.
Bring your own pencils, pens, straight edge, and calculator. EnviroCert only allows the use of approved calculators specified in the NCEES Calculator Policy
No cell phones, Personal Digital Assistants (PDAs), computers, or similar devices are allowed in the exam room.
Use of outside notes, references, exam review books, or other materials is not permitted.
No eating or drinking is allowed in the exam room.
Cheating, collusion, or inappropriate communications are not tolerated!
Directions to Testing Center