Operation and Maintenance of Wastewater Collection Systems, Volume II
Preview Content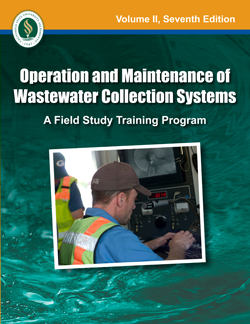 Objective
This course is designed to train personnel to safely and effectively operate and maintain wastewater collection systems.
Scope
This course focuses on three areas: (1) lift stations, (2) sewer rehabilitation, and (3) administration of a collection system agency. Detailed information is provided on the components and practical operation of lift stations. Operators learn to operate and maintain a variety of types of motors, supervisory controls, pumps, valves, and other equipment. They will also learn to examine the condition of a sewer system, set up a sewer rehabilitation program, and safely use various methods to replace or repair damaged sewers. This course also teaches operators critical aspects of effectively administering a wastewater collection agency or department. Administrative topics include overall organization of the agency as well as employment, training and compensation of personnel, selection and acquisition of equipment and facilities, system mapping, management information systems, report writing, and public relations. Operators learn to organize and administer all facets of a collection system agency.
Instructor guides provide a set of chapter tests and answer keys for verified instructors. The guides are not available for sale online. Customers must meet our instructor criteria to order this item. Please call customer service for pricing and ordering requirements at (916) 278-6142.
9 CEUs (90 contact hours)
Course Time Limit: 6 months
Table of Contents
Learning Objectives (Click chapter title to open)
Other Sections
Comprehensive Review Questions and Suggested Answers
Collection System Words
Subject Index